Let's talk about the Super Bowl.
The 2017 Super Bowl featured the New England Patriots versus the Atlanta Falcons. The Patriots were victorious after coming back from a 28-3 deficit in the third quarter. I was cheering for the Falcons, but I have had the opportunity to wa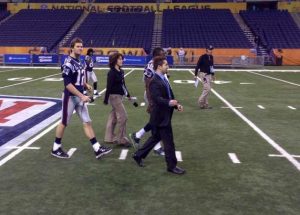 lk with Patriot Tom Brady during a previous Super Bowl (I'm the one in the beige pants holding a microphone). He is, at minimum, intense. Our conversation was limited to operational necessities to get him to and from his media position for interviews. What I remember most, besides his height, was his indelible focus. I knew he was listening to me by the way he reacted to my directions, but he never looked at me. He only looked forward, intensely, staring at where he was headed.
Brady's performance was very interesting to me in that Sunday game. He did not quit. I mean, they were down 28 to 3 coming into the fourth quarter of the biggest game of the year. And then in the fourth quarter he lead a 91-yard game-tying drive, which resulted in the first overtime ever in Super Bowl history and an eventual win for the Patriots with a final score of 34-28. Boom!
Brady portrayed leadership — sound, unwavering, focused leadership. Apparently, Brady's words to his team were, "C'mon boys. Let's go now. You gotta lock in now. Laser focus."
But let's back up a bit and take a look at the Patriots as an organization. When they drafted Brady in 2000 they didn't even need a quarterback. But while contemplating selections at the draft for their team, they looked at more than just a football skill set. They looked for the mental game, and that is where Brady excels.
Let's talk about some stats – the six quarterbacks drafted ahead of Brady in the 2000 draft have a combined start total of 101 games in the NFL and have thrown a combined 246 touchdown passes.  In Brady's career, he has started 235 games and thrown 456 touchdown passes (Source here). Brady outscores their combined totals, and he was chosen last among them.  
But he was chosen deliberately and for specific reasons, and remember the Patriots picked a quarterback when they didn't need a quarterback. By the time the draft rolled around the Patriots' staff and head coach Bill Belichick had been researching, analyzing, and strategizing about Brady's mental game and leadership.
Why was the Patriots decision to draft another quarterback, when they didn't need one, a progressive and heady move? Because they looked beyond his physical talent and instead sought a change maker, a leader in the mental side of the game. And that mental acuity and fortitude is what has earned them  five Super Bowl championships. That's not a bad return on their investment. I don't know for sure, but I would bet my lunch that Belichick also empowered Brady. That he gave Brady the reins and the support to do what he needed to do, to keep the team focused on the end goal. To win.
Belichick showed great leadership by being able to see great leadership potential in someone else. That is a true sign of a leader who understands his team and his gaps.
In my opinion, Brady never looked defeated during that entire Super Bowl game. Not when he was sacked 14 times. Not when he was down over 20 points late in third quarter. Not when the option to win was getting smaller and more difficult with each pass, each fumble, each sack. Not.
Have you ever been in a position, whether in sport or in business, where nothing was going your way? Where you  worked a long time to reach your goal and it was all crumbling around you? I ask you, what was your mental state? Did you become more focused? More diligent? Did you encourage your team? Did you focus on what you could do, rather than what you hadn't done? Did you look for opportunities? Did you blame others? Did you give up?
So, in the realm of leadership, what makes Brady a good example?
Leadership is learning how to control your thoughts, words, disposition, and general outlook. What you think usually comes out in what you say. What you say, affects how you feel and that shows up in your overall attitude (Joyce Meyer). And your attitude affects your actions, your demeanor, your focus,  your will, and your win.
That is what makes Tom Brady a champion, whether he wins the Super Bowl or not. He did not give up. He did not let his emotions rule him or set the tone for his team. He continued to adjust, strategize, and motivate his team. He continued to stay focused on what was possible, and he likely didn't listen to all the voices saying how impossible it was or how it had never been done. He knew his team, he knew their capabilities, and he knew how to walk his talk.
You may not like football, the Patriots, or Tom Brady but I think you'd be hard-pressed not to see and appreciate his leadership skills. Perhaps even, see and appreciate his win.