I just hope we are good winners. – Bill Murray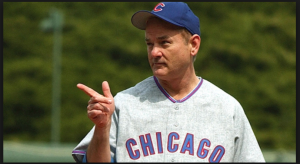 I like baseball. I like softball. I like most sports.
I like the playoffs and I really like the World Series.
I like the Blue Jays.
I like an underdog.
I like a good story.
I like the Chicago Cubs.
I was able to watch most of the 2016 World Series and I devoured the stories on the players, the teams, the management, the game, the everything. This year I chose to cheer for the Chicago Cubs after Canada's Blue Jays were knocked out of contention.
The World Series is the annual championship series of Major League Baseball (MLB) in North America, contested since 1903 between the American League (AL) champion team and the National League (NL) champion team. The winner of the World Series championship is determined through a best-of-seven playoff, and the winning team is awarded the Commissioner's Trophy. The series is played in October (and occasionally November), during the autumn season in North America, and is often referred to as the Fall Classic.
The Chicago Cubs, or the 'Cubbies' as they are affectionately known, last played in the World Series in 1945 – 71 years ago, and last won the World Series in 1908 – 108 years ago. Both are recorded droughts in this sports competition.
This 2016 World Series was an even match this year with the Chicago Cubs and the Cleveland Indians. It went to Game 7 and even into an extra inning where the Cubbies found their win after scoring two runs during their at-bat in the top of the inning.
In my world, which is stacked pretty full of sports enthusiasts, this was a big deal. For my many friends in Chicago, this was a life-changing event. Bill Murray, an American Actor, Writer and Comedian is a longtime Cubs fan and became a pseudo mascot for the team. He was interviewed, of course, after the win and spoke reflectively about how 'We were good losers,' which struck me, but what he said next struck me more. Murray concluded that sentence with 'I just hope we are good winners too.'
The Cubbies, Chicago, and their fans have had a lot of experience losing. And after more than a century, it would make sense that they had become good at it. That's right, a century. Malcolm Gladwell would likely define them as 'expert losers'. But now they are winners. Winners with no experience as winners so Murray's statement 'I hope we are good winners' is not only profound but wise. The Cubbies may be facing the true test of sportsmanship.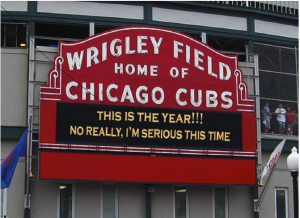 Sportsmanship is based on learning or knowing how to direct our competitive nature. Competition exists in business as well, and as a leader, you must mandate sportsmanship on your team and in your business just like a coach. If we take the time to teach our children how to lose well or how to cheer on their competitors or how to celebrate someone else's win, why do we have a different set of standards for our adult employees?
Sportsmanship is about respect; it is defined as playing fair, following the rules of the game, respecting the judgment of referees and official and treating opponents with respect.
How do those characteristics apply to business?
Playing Fair – this is about your team culture. What you permit, how you treat the team members, not having favourites, having the same rules for all members of your team. Coaching respect for each other.
Following the rules of the game – what are your company's rules of engagement? Do you follow them? Do you lead by example? Do you reinforce this behaviour? Do you call out rule breakers? What are the consequences for not following the rules? Does the team know the rules?
Respecting the judgment of Supervisors and Management – you may not like everything that your one up does or decides but that isn't a reason for insubordination. If you don't like it or don't agree with something they have done, show respect by approaching them one-on-one and voicing that disagreement with well-structured feedback. If they chose to move ahead as originally planned it is up to you to fall in line, or leave. Don't quit and keep collecting a paycheque. If you can't agree with how things are run, or align with the company's approach, find a new place because your lack of respect for management's decisions will tell your team that not aligning with your one up is acceptable.
Treating competitors and colleagues with respect – there should be no room for disrespect between team members or for your competitors. If you trash talk your competitors it only reflects poorly on you, for example, it can make you appear fearful of them, or jealous and jeopardize your own brand. And your team must know that working together, sharing credit and keeping respectful communications is a must. There is no grey here, it should be an absolute and as a leader, its on you to make sure respect is a two way street on your team.
In your business, are your employees good sports? Do they display those qualities of sportsmanship? Is there room for improvement? What do they act like when they lose? Or when they win?
If we believe sportsmanship is a life lesson for our children, we should also believe it to be true for adults and adults in our businesses.
Will the Cubbies be good winners? I hope so. Granted, they don't have much experience with winning, but I think their century of loss will help them because there is a culture surrounding the Cubs, that no matter how often they lost they were never in it alone. Inevitably, they will share this win with the people of Chicago and all Cubs fans, new and old. And I hope they recognize that the strength of belief and dedication their fans displayed provided them with armour that made them warriors. They were all warriors.
I believe, completely, that playing for someone else – a team, a city, a nation – a company – changes the motivation behind our actions and makes us play harder because we want to win for them. And that selfless desire to succeed is a cornerstone of being a good winner.
It is your response to winning or losing that makes you a winner or loser. – Harry Sheehy